The Riley Product Handling Navigator is a machine designed to row multiply products at high speeds. It can handle a variety of products, with velocities largely determined by the products length. Speeds of up to 1000 packs per minute can be achieved.
Packets, jars, bottles, multi-packs and boxes, which require collation for subsequent on-packing can be processed at high speeds by the servo-driven Navigator.
If a process throughput is restricted by a bottleneck in this area, then the Navigator can increase the lines overall capacity.
The Navigator takes a single row of product and row multiplies it to produce the required pattern of product, ready for over-wrapping. The Navigator is seamlessly integrated into a product line, and controlled via a PLC. If different configurations of your product, or new product or pack sizes are introduced, then new recipes can be programmed into the Control software as and when required.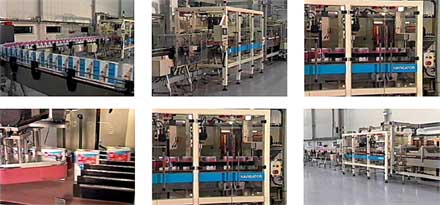 The illustration below depicts a typical shrink-wrap line that requires the infeed to be row multiplied from one to seven lanes. The seventh lane is used to periodically sample the product, ensuring weight tolerances are adhered to. This periodic sampling was managed via our software recipe.