The client produces rice cakes over three shifts, but since the new system was installed, only one shift per day is required to pack. Previously, packing took place during all three shifts.
This bespoke Riley system was designed to receive randomly orientated rice cakes tipped from boxes into a bulk feed hopper, and create a stream of penny stacked product ready for packing.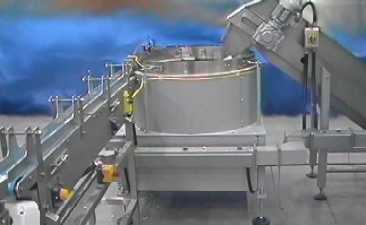 The system consists of;
Bulk Feed Hopper
Linear Feeder
Product Elevator
Circular Bowl Feeder
Receiving Conveyor
Pitching Conveyor
Vibratory Tracks
Controls

A bulk feed hopper and primary linear feeder provide a continuous product stream to the product elevator, which then supplies the bowl feeder with product.

The bowl feeder is designed to convey and orientate the product, resulting in a single row of rice cakes exiting the feeder in a flat end to end pattern. Air jets eliminate potential product blockages, and as a result the system is capable of operating at 240 rice cakes per minute.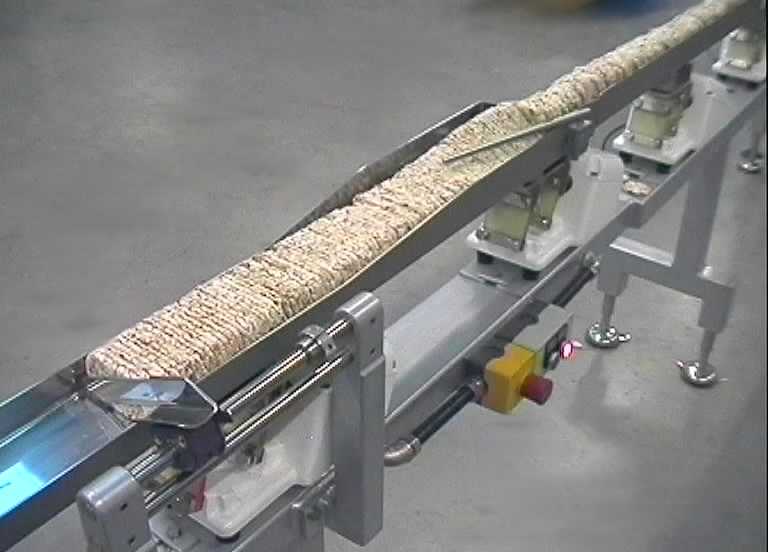 The two independently driven conveyors receive and pitch the product from the circular bowl feeder, preparing it for stacking by the vibratory tracks. The conveyor speeds are set to provide a constant flow of correctly pitched product to the vibratory tracks.
From this point, the stainless steel vibratory tracks take the shingled product in a controlled fashion towards the hand-load station. The track design allows the product to stack up in a shingled pattern, making it easy to see any missing or broken pieces. The tracks also act as a buffer, accumulating product if the wrapper stops. This minimises the amount of product which has to be dumped if there is a process stoppage.